Yesterday, while I was talking about books and writing with an amazing group of 4th and 5th graders in Western New York, another group of elementary school students took shelter in their school, clinging to walls, huddling in the protective arms of their teachers as a tornado swept through their city. Later on, I saw the rescue crews on the news, and my heart ached for all of those families.
I spent time in the Oklahoma City area when I was researching my weather thriller, Eye of the Storm, and the people were so welcoming and wonderful. Those of us who weren't in the storm's path may be in a position to help now. So here's a chance to do that.
Instead of pulling together an auction like we did to benefit the SuperStorm Sandy KidLitCares relief effort, I thought we'd try something faster, because Oklahoma needs help right now, given the magnitude of damage from this week's EF5 tornado. Please consider making a donation to the American Red Cross Disaster Relief Effort now. If you donate at least $10, I'll enter you in a drawing to win a signed book.
I'm donating some of my books, and some other authors are doing the same – not because a book giveaway is the real reason to make this donation but because it's a way for the children's literature community to promote the effort and say thanks to those who decide to donate. I'm hoping that we can also donate signed books to the library system that serves families affected by the tornado, either to add to their collections or to distribute to displaced families. More on that when things settle down some…but here's the KidLitCares Donation Drive information.
To be entered in the KidLitCares for Oklahoma Book Giveaway:
Click here and make a donation of at least $10 for  American Red Cross Disaster Relief. Ideally, you'll do this now. Like, right now. But if you want to be entered for the book drawing, be sure to do it before 12pm EST on June 7th.  I'll enter your name in the drawing once for each $10 you donate. So a $50 donation equals five chances to win.
You'll receive an email receipt from the Red Cross.  Forward that receipt to kidlitcares@gmail.com, and you'll automatically be entered in the drawing for one of our donated signed books!  You can see an ever-updating list of donated signed books below!
On June 7th, I'll draw names for as many books as we have donated. I'll contact you via email if you win so that you can provide a mailing address for the author to mail your signed book. Because our authors are donating postage, books can be mailed to US addresses only. (Sorry!) Again – the deadline is 12pm EST on June 7th.
Authors: If you'd like to donate a signed book as a Donation Drive Giveaway, please email kidlitcares@gmail.com and I'll send you a link to the donation page.  Thanks!
Agents and Editors: If you'd like to donate a signed book by one of your authors or clients, that's great, too. Email kidlitcares@gmail.com and I'll send you that link, too.
Readers: Please help us spread the word about KidLitCares for Oklahoma by sharing this link on Twitter, Facebook and wherever else you have friends!
http://www.katemessner.com/lets-help-kidlitcares-for-oklahoma/
Here's the list of books that have already been donated and will be given away on June 7th…

(It will grow…and I will try my best to keep up with it…please be patient! New books will be added daily.)
HIDE AND SEEK by Kate Messner
THE REINVENTION OF EDISON THOMAS by Jacqueline Houtman
SIRENS by Janet Fox
BIGGER THAN A BREADBOX by Laurel Snyder
PASSING THE MUSIC DOWN by Sarah Sullivan
SMALL MEDIUM AT LARGE by Joanne Levy
1 ZANY ZOO by Lori Degman
THE GENTLEMAN BUG by Julian Hector
TRADING FACES by Julie DeVillers and Jennifer Roy
BEDEVILED: DADDY'S LITTLE ANGEL by Shani Petroff
HOUNDS: LOYAL HUNTING COMPANIONS by Becky Levine
THE SINISTER SWEETNESS OF SPLENDID ACADEMY by Nikki Loftin
SPLISH SPLASH! by Naomi Davis
COUNTING ON GRACE by Elizabeth Winthrop
THE GOLLYWHOPPER GAMES by Jody Feldman
.
So.
I have some news.
I am pretty pumped.
No, I am really really pumped. I am making that EEEEEEEEEEEEE noise that balloons make when you pull the blowing-in part all straight across.
It is this:
EEEEEEEEEEEEEEEEEEEEEEEEEEEEEEE!
Mirrored from JacksonPearce.com.
There are several sorts of lists/plans that need to be made. Here's a list. (Yeah, a list of lists. Go me!)
1. You need to get or create a floor plan for the house/apartment/space you are moving into.
This assumes that you know what/where it is, or what sort of thing you'd like it to be, and really, if you don't know precisely, you have some idea. Maybe you're going to cut a bedroom, or get a place without a separate study/office. Usually you have some idea. And since I have read this tip in something like 100% of every article on moving/downsizing that I've read, I figure there must be something to it.
And it makes sense. I am moving from a 3 bedroom, 2-1/2 bathroom house to a 3 bedroom, 2 bathroom house. Doesn't sound like that big of a deal, right? Not until you figure that I have both a family room and a living room and a half-finished basement (all of which contain furniture, computer, and entertainment equipment) and there's only one living room at the new place. And I have a full dining room and eat-in kitchen (read two tables with chairs, plus several pieces of additional furniture including a bookcase, two dining room storage pieces and an antique tea cart), but the new house has a rather tight dining area that can't fit my dining room table, let alone any other pieces.
Oh. And the house I'm moving into is already fully furnished. Which brings me to the next list.
2. Once you've figured out exactly how big your target space is, you need to come up with a "must have" list.
This is a list of the things that you need in order for the space to function. (I got this suggestion from
the e-book by Lisa Patriquin that I recommended in the last post.
) This is limited to the items necessary for each space to function as you intend it to.
For instance, my sweetheart and I agree that the master bedroom needs the following items: 1) a bed; 2) side tables/nightstands; 3) lamps; 4) an alarm clock; 5) 2 sets of sheets (min.); 6) a blanket/bedspread; 7) pillows. It doesn't, strictly speaking,
need
dressers, since there's a massive closet, but it has one anyhow. It also doesn't
need
the TV that's in there, although we're likely keeping it there.
For bathrooms, you should list things like towels, trash cans, shower curtain, etc. For the kitchen, it gets really crazy (and I haven't yet tried it), but you need to create a list containing only the things you actually
need
to have a functional kitchen. Not your ideal kitchen. Not a fully-outfitted, wants-for-nothing kitchen. Just a functional one. How many place settings of dishes. How many sauce and frying pans (and what sizes), baking dishes, wooden spoons, dish towels, etc. I am positive that the answer is that I need a lot less than what I have, although a bit more than what my sweetheart has. I'm sure you can see why I haven't undertaken this one yet.
3. You need to come up with a list of what is going into your new space.
Once you know what's on your "must have" list (or, if you prefer, "need to have" list, but I don't prefer that terminology, because it's too easy to say "But I
need
three sets of every day dishes so they can match my every mood", for instance), you have to "shop" for the items that will fill that list. Shopping can involve actual shopping, of course - maybe you want to start new, or you are getting rid of one sized bed and replacing it with another (moving up or down, either for yourself or another bedroom), for instance. But shopping can also involve "shopping" from the available items that you already own (in our case, that's stuff in two houses).
In the case of the aforementioned master bedroom, not all that much is going to change. We will likely swap alarm clocks, since I really like my iHome and my sweetheart doesn't really care what sort of clock we have as long as it works (and he can read it without his glasses on). I may swap one of my pillows for one of his, too, but that's pretty much it from the "must have" list.
4. You need to come up with a list of projects that need to be done.
In my case, this includes things at both houses, and I suspect that's the case for many people. A friend of mine is moving soon, and needs new floors and some interior painting done at her new place, as well as clearing out and fixing up at her current one.
This includes a list of things to be cleaned, painted, repaired, replaced, or disposed of, as well as things to be given away, sold, or purchased.
5. When it comes to purging/clearing activities, it pays to have a plan.
Figure out what areas you plan on starting with first. Calculate how many rooms/areas you have to deal with, and how much time you have in which to work, and map out a specific plan to allow you to move through those spaces in an orderly (and, if possible, not too rushed of a) fashion.
In the case of my house, we've decided to tackle my basement first.* It's a mess, yo. And because it holds a daybed and trundle, it is sometimes called into use as a guest room, which seems likely in June when Maggie graduates and the house fills up with family.
What I've done is to think of it in four sections: 1) the walk-in storage closet; 2) the main room (where the daybed is); 3) the craft area (which never really got set up properly, exactly, and is full of stored items); and 4) the laundry area. For each area, there's a list of tasks of the items and areas to be addressed. (Each of the sections ends with "sweep and mop the floor".) The plan was to complete the closet last week, then move to the main room this week, the craft area next week, and the laundry area the week after that. It involves clearing out a lot of unused stuff, figuring out what to keep and what to get rid of (and then how to get rid of it), some organization, some packing, and a lot of cleaning.
So far, we're on target - in fact, we moved to the main room a good two days ahead of schedule. The goal is to spend 20-30 minutes each day on the project, which is a good goal. Practically speaking, it usually turns out to be more like 30-60 minutes, but the commitment is only for 20, so it's doable on a daily basis. Because, as I stated last time, momentum is your friend, so getting a bit done every day is a Very Good Thing. I'll keep you posted on how it's going. And on some of the things I'm figuring out/learning along the way.
*I have to consult with my sweetheart and figure out what the rest of the plan is - whether we go to the attic or garage next, or start tackling rooms and closets and cupboards inside the house. But for now, getting the basement all the way done before Maggie's high school graduation next month will be enough. The rest will still be there afterwards.
See you next Tuesday with another downsizing post. Meanwhile, the blog will still be here, doing its usual thing.
First off, I should note that making lists is one of my favorite sorts of things to do. It feels like work, you see, even though you aren't truly accomplishing anything concrete besides taking ephemera that's clogging up your brain and putting it on paper for the world to see. Or, you know, anyone who wants to be bothered finding your notebook and deciphering your writing. But I digress.
Current Mood:

geeky

Current Music:

Perfect Love Gone Wrong by Sting (CD)
Current Mood:

disappointed

Current Music:

Desert Rose by Sting (CD)
INDELIBLE arcs are coming to BEA!
To celebrate, the Harlequin Dream Team and I wanted everyone to feel like they were part of this amazing event at the Javitz Center in New York by giving you a little taste of the pre-launch party fun! (We didn't want anyone to feel left out, so...)
INDELIBLE
is about a girl, Joy Malone, and how she gets entangled with members of the Twixt, the last vestiges of magic that exist in our world. Her introduction comes in the form of two Goth-looking twins, Indelible Ink and Invisible Inq, whose jobs are to mark humans that are claimed by the Twixt. Ink's marks are meant to be seen while Inq's marks are invisible. To qualify for this latest giveaway,
*YOU*
get to marked by one of the Twixt!
*** Show Me Your Ink!!! ***
Send me a photo of yourself or your favorite unsuspecting sleeping person with the words
"Ink Was Here"
written anywhere on the face/lips/cheek/ear. (Please use eye pencil or face paint or something other than magic marker so your parents or S.O.s don't yell at me.) Purists might want to know that my preference is the ear for reasons that will become obvious once you read the book! Email the photo along with your mailing address to me at
Dawn.Metcalf on gmail
for a gorgeous INDELIBLE temporary tattoo!


Oooo! Ahhhh! WANT!
Keep that camera handy, ladies & gentlemen--there's more...
This tattoo by
Mario S. Nevado
is not only pretty and pretty darn cool, but it qualifies you for an
exclusive
content contest. To enter, apply this tattoo to your shoulder/arm/wrist/hand and take a photo. (Purists may also want to note the left shoulder is the one mentioned in the book!) Email that pic with
"Show My Ink!"
in the Subject line and you can win an exclusive prize only available to those who participate! Details will be emailed directly to you.
This contest is open to US residents and runs from
now through June 1st.
Tattoos will be available at BEA and also through this (and other) contests! Get writing, get snapping &
SHOW ME YOUR INK!

Recap Deets on How To Enter & Win Swag:
PART I:
1. Draw "Ink Was Here" somewhere on your face with something that won't get me in trouble
2. Email it & your mailing address to me at Dawn.Metcalf (at) gmail.com
3. Get your beautiful INDELIBLE temporary tattoo!
PART II:
1. Take a picture of your tattoo somewhere on your arm that won't get me in trouble
2. Email it to me at Dawn.Metcalf (at) gmail.com
3. Get your exclusive, participant-only prize via email!
But wait! There's
still
more going on...
- Did you enter the
Goodreads Giveaway
going on right now? ARCs available directly from Harlequin TEEN!
- And, bloggers, it may be late May but
I Still ♥ Book Bloggers!
and you can get arcs & swag by clicking on the
link
!
- INDELIBLE's
pre-order contest
is ongoing through launch date,
July 30th
--send proof of purchase to my email and get a super-secret Thank You prize from me!
Oklahoma in my heart, on my mind
Oklahoma state flower, via Planetworks.com
Tragedies bring us closer together, it's said, and I believe that's true. Riveted to our TV screens and Twitter at first, we climb through the rubble until our hearts crack open and our minds shut down, so wholly unequipped are we to compre
hend the things we've witnessed. So we seek refuge, here and elsewhere, bound together by the braided cords of anguish and hope. It is on this precarious ledge that we tell our stories, turn over in our hands like treasures the things we've salvaged, mourn the depth of our losses and celebrate the legacies that endure.

Holding
Oklahoma
in my thoughts and prayers...
I'm back in beautiful Greenville, South Carolina for a series of school visits this week. In downtown Greenville, they have adorable little mouse statues around the downtown. When I was in Greenville in March, I bought a replica to bring home with me, and now he sits on my living room windowsill.
Here he is with the South Carolina Picture Book Award medal for
Hot Rod Hamster
.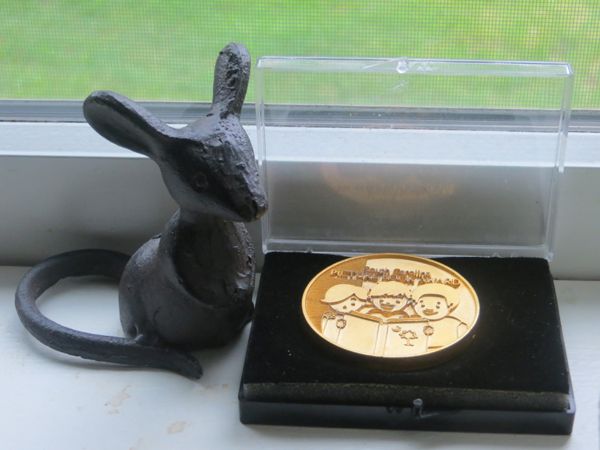 Current Mood:

grateful
For those in the Lehigh Valley area, or willing to travel there, I'll be on a panel this weekend to talk about writing for young adults:
Saturday, May 25, 11 AM - 1 PM
:
Panel on Young Adult Books
. Greater Lehigh Valley Writers Group.
PALMER LIBRARY
, 3 Weller Place, Palmer Township, PA. Appearing with Alissa Grosso, Nicole Zoltack, and John Evans.
I'm still reading a lot, and writing, and thinking.
Anna Boll
and I received the 2013 Susan P. Bloom Discovery Award.
I was nervous--as nervous as I was two years ago when I made my stand-up debut. It helped that we got lost on our way to the auditorium, and I mean that in all sincerity. Having to look for missing street signs (Boston suburbs are apparently notorious) and listen as Bianca (all our GPS voices are known as Bianca) "recalculated," kept me focused on the moment rather than what lay ahead.
We arrived in time (barely), and met those of the selection committee who could attend:
Kim Ablon Whitney
,
Lisa Jahn-Clough
,
Liza Ketchum,
and
Mitali Perkins
. (
Susan P. Bloom
,
Pat Lowery Collins
,
Susan Goodman
,
Robie Harris
, and
Leslie Sills
were the other committee members.) Mitali was the only member of the committee I knew at all, but everyone made us feel so welcome and at home that I relaxed immediately.
Liza Ketchum introduced me, and that was a particular honor, because Liza has a home in Vermont and knows this state and therefore something about my story's setting. It was also an honor because both Liza and Lisa taught at VCFA with Norma Fox Mazer, in whose honor I received an award in January. All these connections make me feel as if my story is supported by a web.
I read, and I have to say, it was so gratifying to be able to make eye contact with people I knew: Anna. My fellow Magic Ifs,
Jim Hill
and Jenn Barnes. VCFA faculty member
Sarah Ellis
, who happened to be in Boston that weekend and was there on her birthday! And my husband Greg. It was good to hear people laugh when I hoped they would, too.
The other gratifying thing about reading--and the reason I'd like to add my voice to those who call for reading aloud--is that when it works--as it did last night--I feel like I'm channeling the character. The vocal chords may be mine, but the voice is not. When the character takes over, the feeling is glorious.
And then I was done and could sit down and relax while Mitali introduced Anna. It was a delight listening to Anna read. I realized I had heard the very first pages at this March's Novel Writing Retreat, when they had left me wanting to know more. Last night, I got to hear that more, but that, in turn, only made me want more still. I can't wait until this book is published!
I knew that the Discovery Award had been around for a while, but I didn't realize until last night that this was the 15th year. Nor did I realize how many people who received this award have gone on to have their winning title published. That list includes Sara Pinto, current committee member Kim Ablon Whitney,
Janet Ruth Young
,
Jo Knowles
,
M.P. Barker
, Erin Dionne (
bostonerin
),
Ammi-Joan Paquette
,
Jame Richards
, and last year's co-winner and current VCFA student Helen Demetrios.
After our reading, the audience had some excellent questions about our process, research, and our reading. What was fascinating to me was where those things overlap and where they diverge. One thing that Anna and I turn out to have in common--at least for these works--is reading widely. I don't think either of us can imagine doing otherwise. One place where we diverge--Anna is spinning many more plates than I. She also writes curricula for books and does things like mini triathlons. I don't know how she has time for it all!
These are called the Discovery Awards and I am so grateful to be discovered. I, too, have also made a discovery: it is worth taking a creative risk. I went into this project,
Three Minutes Thirty
, feeling not like I was going out on a limb, but like I was stepping onto a high wire, weak in the knees and trembling. There was a lot of breath-holding and wobbling and uncertainty, because I didn't know if what I was trying would work. If it didn't, I was going to fall a long way and I didn't know what I would do if I did. But it was the only way I could see that might possibly work and I had a couple of people I could trust cheering me on. So I crept slowly on.
Take the creative risk--that was my discovery. But, in the process, I was reminded of something I discovered in the book before this: You've got to believe--in your story, in yourself, in what Tim Wynne-Jones has called "your inner genius," that bit of you that puts things in the story for you to find when you need them.
I still have this on my computer to remind me:

But now I also have this lovely award, created by the multi-talented Lisa Jahn-Clough, to remind me to take those creative risks:
Last night was the PEN New England 2013 Discovery Award Night, at which